What is the Perfect Valentine's Gift for Her?
Valentine's Day crept up on your again? Wondering was the perfect Valentine's gift for your girlfriend would be? We're here to help, answering all the questions you have about the best Valentines gifts for women and sharing our top suggestions for personalised Valentines Day gifts. Let's get to it.
---
When to buy gifts for Valentine's Day
There are two ways you could interpret the question: when to buy gifts for Valentine's Day? Could it be, at what point in your relationship should you give each other Valentines gifts, or more literally, when is a good time to get your gift shopping done? To make things easy, let's consider both.
In reference to the former, when is a good time in your relationship to start buying Valentine's Day gifts? Really it's completely up to you, every relationship is different and every couple is different. We have a whole guide on navigating Valentine's Day in a new relationship, which might be helpful if you're still in the very early days. The main conclusion we drew is that it's time to give gifts when it feels right to you. Talk to your partner and if it feels like an elaborate Valentine's display would be coming on too strong for your first Valentine's Day together, perhaps settle for a simple Valentine's Day card for her instead.
At the other end of the relationship spectrum, should you buy Valentine's gifts if you have been together for years and years? Many couples get out of the habit of really celebrating Valentine's Day when they are in a long term relationship so again, it's really up to you. But surprising your partner with an unexpected gift, especially a personalised one, is a wonderful way to remind them how much they are loved on Valentine's Day.
And to answer the second interpretation of the question "when to buy gifts for Valentine's Day", it's never too early to start thinking ahead. It's also best not to leave your gift buying to the night before – Valentine's flowers often sell out quickly and you don't want to be left with supermarket cast offs. That being said, lots of online retailers (including us at Create Gift Love!) can provide thoughtful last minute Valentine's Day gifts for her.
To be on the safe side, most Valentine's Day shopping and preparations begin at the start of February.
---
Most popular Valentine's Day gifts for her
So what are the most popular Valentine's Day gifts for her? Roses – and other Valentines flowers – are the obvious choice. Thousands of bouquets are bought in the UK each year, chosen because of the associated tradition and the romantic symbolism flowers represent. Other popular Valentine's Day gifts for her include the classic chocolates, jewellery, perfume and lingerie. But if you're looking for Valentine's Day gifts for her with an edge, consider something more thoughtful to make an impact.
---
How to make Valentine's Day special with customised gifts
Personalised gifts, such as the handmade keepsakes we make at Create Gift Love, are one way to make Valentine's Day super special. Whether you're buying for your girlfriend, wife or new partner, she will love the thoughtful sentiment. It's an easy way to let her know she is valued.
Valentine's Day is about celebrating your relationship, and our personalised gifts make that really easy. With lots of options to choose from and plenty of personalised examples, you can show her how important she is to you without having to go completely overboard with effort. Here are five of our top personalised, easy Valentine's Day gifts for her.
---
Our favourite personalised Valentines gifts for her
Personalised Metal Photo Keyring With Leather Case
The metal and leather photo keyrings are our most sentimental keyring keepsake which will guarantee that she feels loved and valued on Valentine's Day. The keyrings hold a personalised photo inside so all you have to do is find your favourite picture of the two of you, or a memory shared, and we will do the rest. You can add an engraved message if you're feeling romantic (we have a whole blog post filled with message inspiration here) and you can choose her favourite colour to make sure it's a keyring she'll want to carry every day.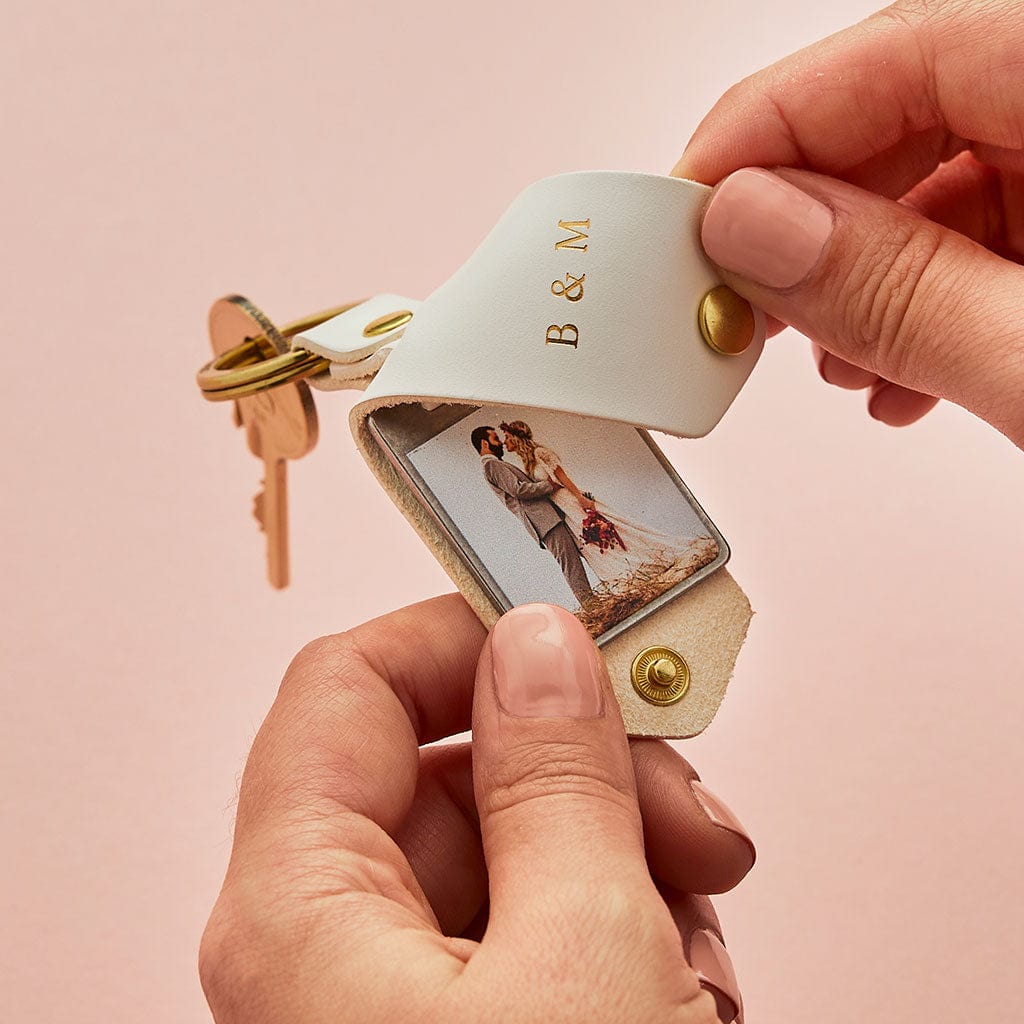 Leather Purse from Sbri
Speaking of colour, our sister brand Sbri is full of colourful women's leather accessories which make perfect Valentine's Day gifts for her. The handcrafted leather accessories come in a whole range of fun colours and prints, plus they are all personalised with initials to add joy and personality to her everyday essentials. Introduce her to Sbri and you'll be set for gift ideas for all future gifting occasions!
The Cariad Coin Purse in particular is a great one for Valentine's Day, with a cute love heart pattern and optional secret personalised message hidden inside. A love note for her eyes only.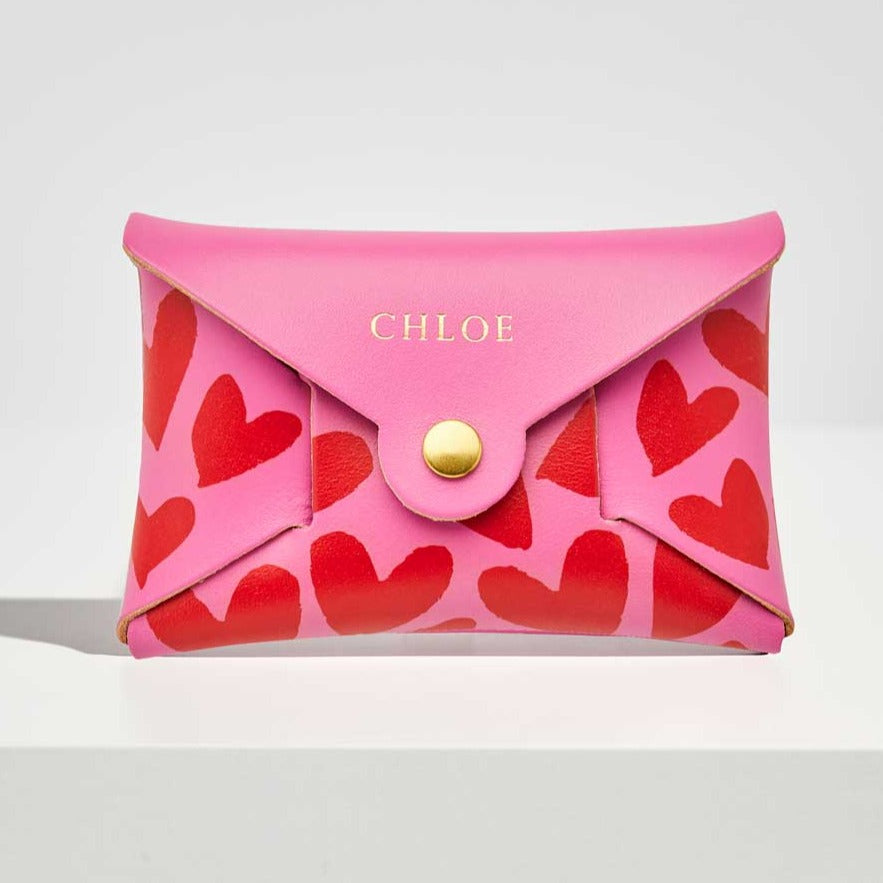 An Engagement Ring Pouch
If you're planning to make it a very memorable Valentine's Day by joining thousands of others and popping the big question, we can help make your Valentine's Day proposal even more personal. Our handcrafted leather engagement ring pouches are available in four colours and can be personalised with your initials and a hidden message inside for an extra special touch.
We also have a special ring pouch for dogs if you want to get your pet pal in on the action. There's no way she could say no!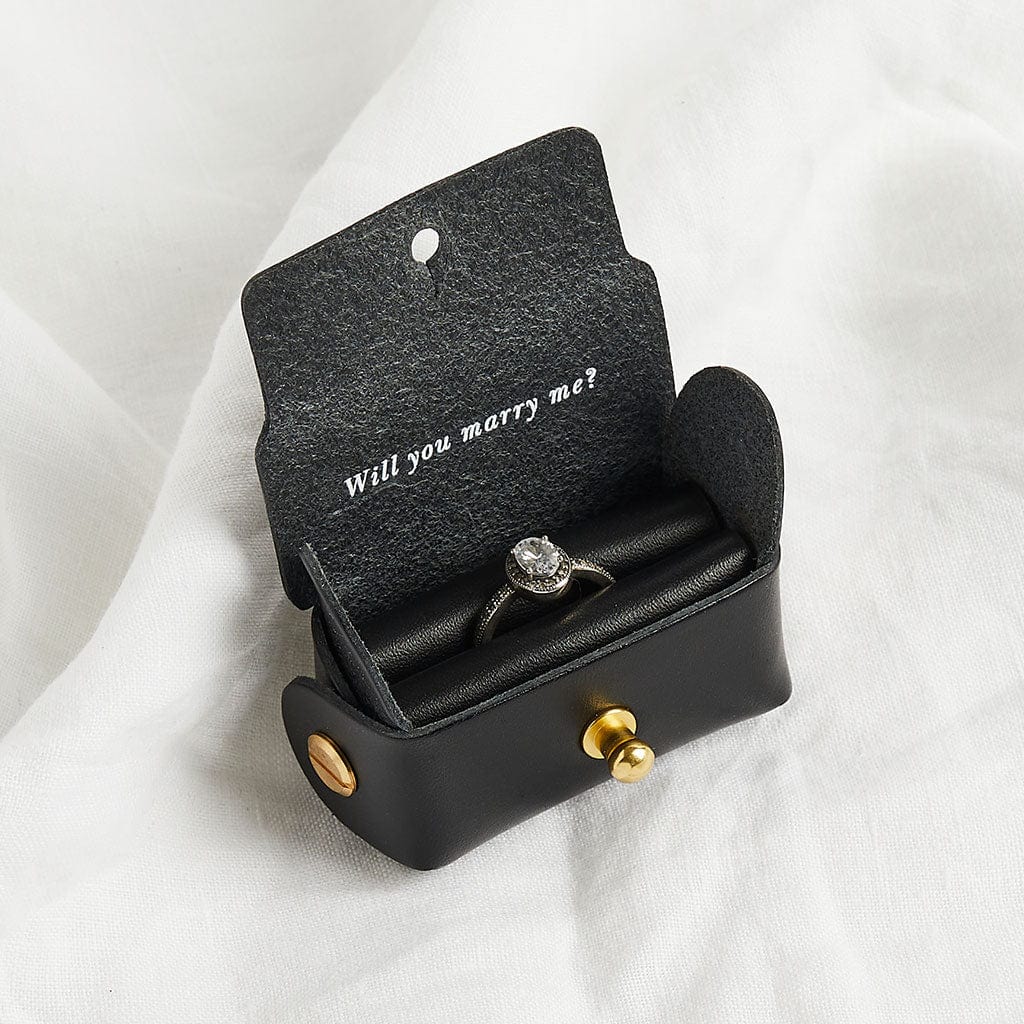 Playing Card Keyring Set for Two
This fun playing card inspired keyring set is the perfect cute Valentine's Day gift for the queen of your heart, and it's actually a gift for you both. The two piece keyring set is personalised with each of your initials, showing that you are two parts of one whole. She will love this symbolism of this simple keyring gift set.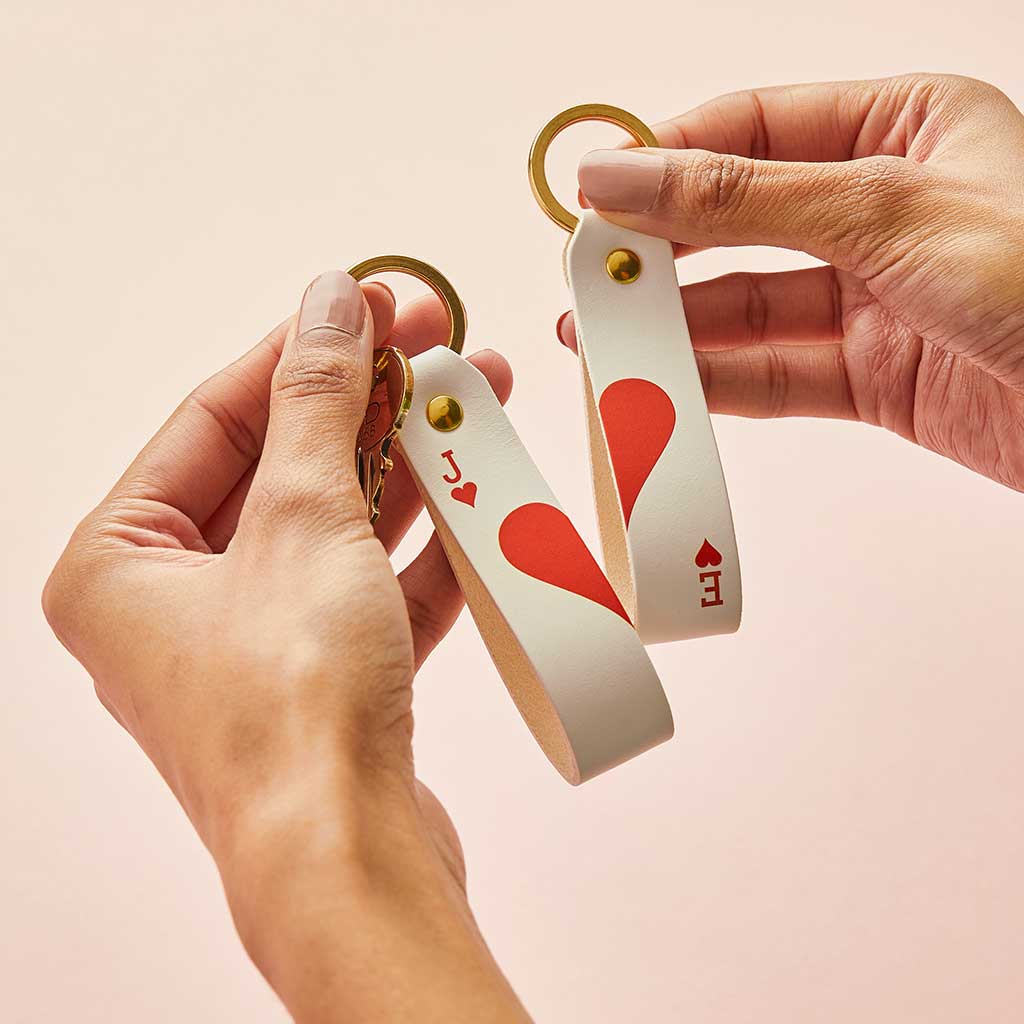 Matching Personalised Luggage Tags
Finally, on a similar theme to our two-part keyring set, how about our matching "ampersand" luggage tags. Perfect for couples who love to travel, the matching luggage tags feature initials and an ampersand symbol across the two parts, making a whole when held together. This luggage tag set makes a lovely standalone Valentine's Day gift or a personalised add-on if you're planning a romantic Valentine's weekend away.