How to Propose on Valentine's Day: A Romantic Guide
How to propose on Valentine's Day can be a daunting task, even for the most confident among us.
The pressure is on, after all. This isn't just any proposal; it's a declaration of love on the most romantic day of the year. You want your partner to feel special and cherished. But where do you start?
Fear not! Knowing how to propose on Valentine's Day doesn't have to be overwhelming or confusing. In fact, it could be the perfect way to make your proposal romantic and memorable. 
---
The idea of proposing on Valentine's Day can seem daunting, but with sincerity and a personalised approach, it becomes an opportunity for your love story to truly shine.
Here are some tips for making your Valentine's Day proposal extra special and heartfelt.
Speaking from the heart: how to craft your proposal speech
Before you go ahead with proposing on Valentine's Day it's important to give some thought to what you are going to say. Planning a proposal speech is key to a successful Valentine's Day proposal, even if it's just a rough outline of a few things you'd like to say. It's easy to lose your nerve when the pressure is on so having a few lines prepared will really help to keep you in the moment.
Your proposal speech should be as unique as your relationship. How do you convey your feelings in words that genuinely reflect your bond? The answer lies in making it personal.
Expressing your love goes beyond the words "I love you"; it's about illustrating why and how much they mean to you through shared memories or personal anecdotes. These stories help paint a vivid picture of your journey together so far and set the stage for what's ahead.
You don't need to overthink it though, or speak in a way that feels unnatural to you. Your proposal speech should be sincere and heartfelt but it shouldn't sound like a script. Say what feels right. Speak from the heart and express why they mean so much to you.
---
The perfect gift: how to choose your ring or proposal gifts
Once you know the kinds of words you want to say in your Valentine's Day proposal, the next important step is to choose the ring (or gift) you want to propose with. Of course, engagement rings are the most popular option and we have plenty of tips to help you find the perfect engagement ring for your partner. But if jewellery isn't their thing or you'd prefer to select a ring together there are other options available to make your proposal unique and personal.
In this section we will cover how to choose the perfect ring, how to make your proposal unique to Valentine's Day, and personalised gifts to make proposing even more special.
How to choose the perfect ring
Selecting an engagement ring is no small task. It's all about picking out a piece that symbolises your beloved's individual look and character, making it as special as they are.
Finding Your Partner's Style
To choose the perfect ring, you need to understand your partner's jewellery preferences. Are they partial to gold or silver? Do their existing pieces have any recurring themes?
If vintage styles catch their eye, antique rings or era-inspired designs might be just right. But if modern minimalism is more their speed, consider sleek bands with understated settings.
The Importance of Size
Size matters when it comes to choosing an engagement ring. Borrow one of your partner's current rings for sizing reference - this can help you get the correct size while shopping online.
You could also use professional sizing guides or ask friends and family who might know your partner's ring size – every little bit helps.
Selecting The Right Gemstone
Diamonds may be traditional choices for engagement rings due to their timeless elegance and durability, but don't feel confined by convention. If diamonds aren't quite right for your significant other's style or ethical beliefs, there are many alternative gemstones available such as sapphires, rubies, or emeralds which offer equal beauty but at different price points.
Valentine's Specific Proposal Ideas
If you've decided you want to propose on Valentine's Day, chances are you're the romantic sort. You want to lean into all the tropes of Valentine's Day and make this years' February 14th one to really remember. After all, what's more romantic on Valentine's Day than committing yourselves to each other forever?
The most popular gifts for Valentine's Day are Valentines cards, red roses and heart-shaped chocolate boxes. So, if you wanted to make your proposal a complete surprise why not tie it into Valentine's Day tradition? By simply handing over a card or bouquet on Valentine's morning your partner won't suspect anything out of the ordinary – what they don't yet know is that you've hidden those four magic words, will you marry me, inside an otherwise typical Valentines gift. The only downside is that you'll set the bar high for Valentine's Day next year!
Alternative rings and personalised gifts
If you're looking for ways to make your Valentine's Day proposal even more personal, we have some great suggestions here at Create Gift Love, from alternative engagement rings to ways to include your four-legged friend.
A wooden keepsake ring
One popular idea to make your proposal personal is our wooden proposal keepsake rings. This engraved wooden ring is perfect if you're not ready to buy an expensive engagement ring or would prefer to select the "real" ring together with your partner.
The wooden ring can be engraved with you and your partner's names and comes in a personalised box so it makes a gorgeous keepsake to remember the day you got engaged.
A personalised leather ring pouch
Alternatively if you've already chosen the perfect ring but want to add a personalised aspect to it, how about our personalised leather engagement ring pouches? These leather pouches can be stamped with your initials or a date on the outside and opens to reveal a secret message inside. You could print the date of Valentine's Day on the inside so that you always have a keepsake of this extra special Valentine's Day. It's also a handy safe place to store the engagement ring when it's not being worn.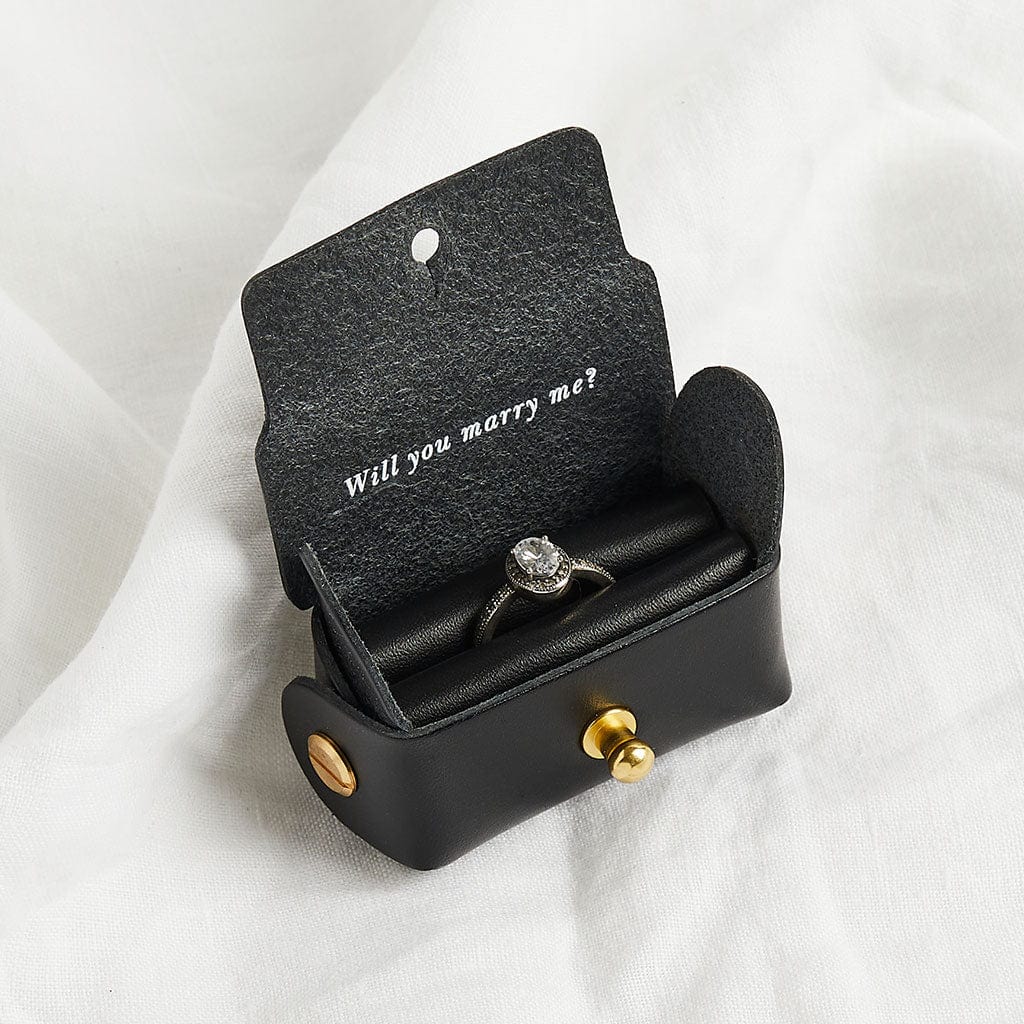 Involving your dog
Another way Create Gift Love can help make your proposal even more memorable is with our engagement ring pouches for dogs. If you are both dog lovers, why not have your pet do the hard work for you when it comes to proposing! This version of our leather ring pouches features a solid brass clasp to clip to your dog's collar so that they can carry the ring. Why not take a romantic Valentine's Day dog walk to your favourite spot and pop the question with the help of your pet?
Speaking of favourite spots, next we will discuss how to choose the timing and setting of your Valentine's Day proposal.
---
Pick the right moment: how to decide the timing and setting
The perfect proposal involves more than just popping the questions, it's about creating an unforgettable experience. Once you announce the news of your engagement everyone will want to hear the details of the proposal, so it's lovely to have a really great story to tell.
A Meaningful Location: The Key to Memorable Proposals
Where you propose can add depth to your declaration of love. Perhaps it's where your eyes first met or maybe a cherished spot that holds sentimental value. Could you book a Valentine's Day dinner at the restaurant where you had your first date or return to somewhere significant to you both?
Alternatively if you would prefer to pop the question at home on Valentine's Day, give some thought to the setting of the room and the music playing when you propose. The song will take on a whole new meaning.
The Timing Factor in Valentine's Day Proposals
The 'when' can be as crucial as the 'where'. An intimate setting could set up a romantic atmosphere, while proposing amidst others might heighten feelings of shared joy.
Picking the perfect time might feel tricky, yet crucial because timing sets up everything else beautifully when done right. Consider choosing moments where both parties are relaxed without any distractions stealing away from this important event's significance.
Select calm environments over chaotic ones
Take note of their mood before popping the question
Make sure no immediate responsibilities cloud either party's mind during this time
These factors contribute towards creating an atmosphere conducive for intimate conversations. Remember, every couple has its own rhythm; pay close attention to yours.
Capture the magic: ways to remember your Valentines proposal
A moment like this can feel like a blur, especially for the partner who was not in on the proposal plans! You may want to consider ways to capture the moment with photographs or videos so you can look back on it for years to come.
If you're proposing in a public place or around friends, it might be worth giving the heads up to a trusted confidant so they are ready with the camera when the moment arrives. Some people even book a professional photographer to capture the moment for them, but this option is not for everyone so don't consider it a must!
At Create Gift Love we have a whole selection of personalised engagement gifts and keepsakes which will help you capture this most meaningful moment. If you have photos (be it action shots or post-proposal selfies!) then our photo keyrings and wall displays could be a lovely way to keep the memory alive but if you didn't catch any pictures then never fear – our calendar keepsakes and coordinate keyrings are also wonderful ways to remember the day you said yes.
---
Valentine's Day Proposal FAQs
Is it OK to propose on Valentine's Day?
Absolutely, proposing on Valentine's Day can be incredibly romantic and memorable due to the day's association with love and affection.
Why do men propose on one knee?
This heartfelt act carries significant meaning. It originates from days of chivalry, illustrating humility towards the person you're asking to share their life with you. In this position, metaphorically speaking, your heart lies below theirs – showing that their happiness takes precedence over yours.
How many proposals happen on Valentine's Day?
According to Good Housekeeping, as many as 6 million couples get engaged on Valentine's Day and it is named as one of the most romantic days to propose.