Which Photo Keyring Should I Pick? A Guide to Create Gift Love Personalised Keyrings
Over the last decade, the Create Gift Love workshop and website have become somewhat of a home for personalised keyrings. We have been designing and making personalised keyring gifts since 2012 to capture our customers' most meaningful moments and significant memories, and they continue to be our most popular product year after year. In particular, our personalised photo keyrings.
What started with one simple design has developed into a whole range of wood and leather photo keyring gifts, giving you more ways to share and display your favourite photographs with loved ones. But, with more options comes more decisions, so in this blog post we will be introducing you to all the different photo keyring designs at Create Gift Love, showing you their features and comparing the differences so that you can choose a personalised keyring that suits you best.
Want to know more about why keyrings make great gifts? Read more here.
---
Personalised Metal Photo Keyring With Leather Case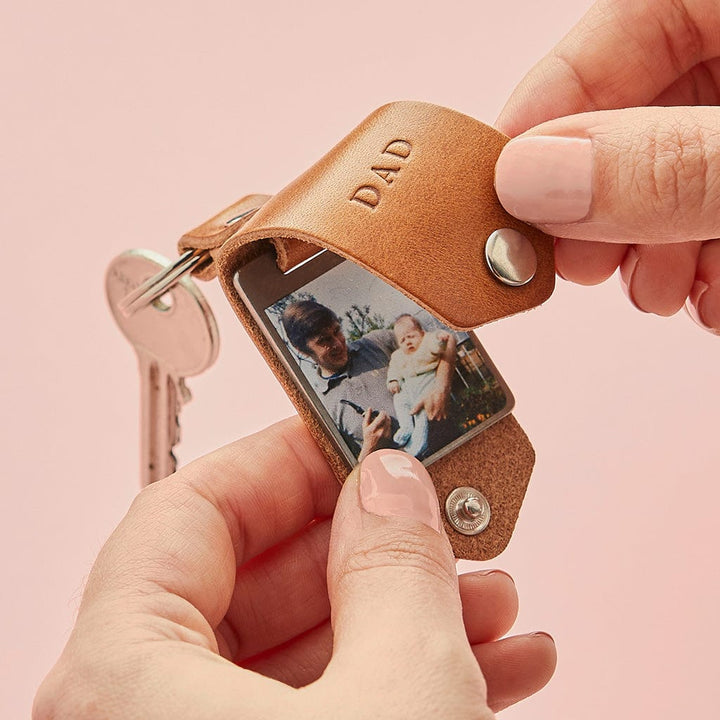 | | |
| --- | --- |
|  Title | Personalised Metal Photo Keyring With Leather Case |
| Best for... | customisation |
| How many photos | One photo (although we do have a double option!) |
| Customisations | Hand stamped personalisation on the leather case, nine leather colours to choose from, a printed photo and optional engraved message on the back |
| Link | https://www.creategiftlove.co.uk/collections/metal-photo-keyrings |
Our all-time bestseller, the Personalised Metal Photo Keyring With Leather Case (more commonly known as the '613' in our workshop, after its original product code!). Originally designed by our director Tony back in 2016, this keyring has become our most well known product, and our most popular one too.
The keyrings feature a leather outer case, which can be personalised with a name or initials in traditional debossed lettering or gold foil, holding a stainless steel metal plate inside. The plate can be printed with a photograph on the front and we also give you the option to add an engraved message to the back of the photo plate. For inspiration of personalised messages to include, check out the blog post here.
The metal photo keyrings are available in nine leather colours, from traditional tan brown, black and navy, to fun bright colours such as mint green, lilac and fuchsia pink. Because of how customisable they are it's no surprise that these keyrings are popular all year round, whatever the occasion. They're perfect for new mums and dads on Mother's Day or Father's Day, anniversary or Valentine's gifts with couples photos inside, or for milestone birthday presents, printed with a favourite childhood photo.
---
Personalised Multi-Photo Leather Envelope Keyring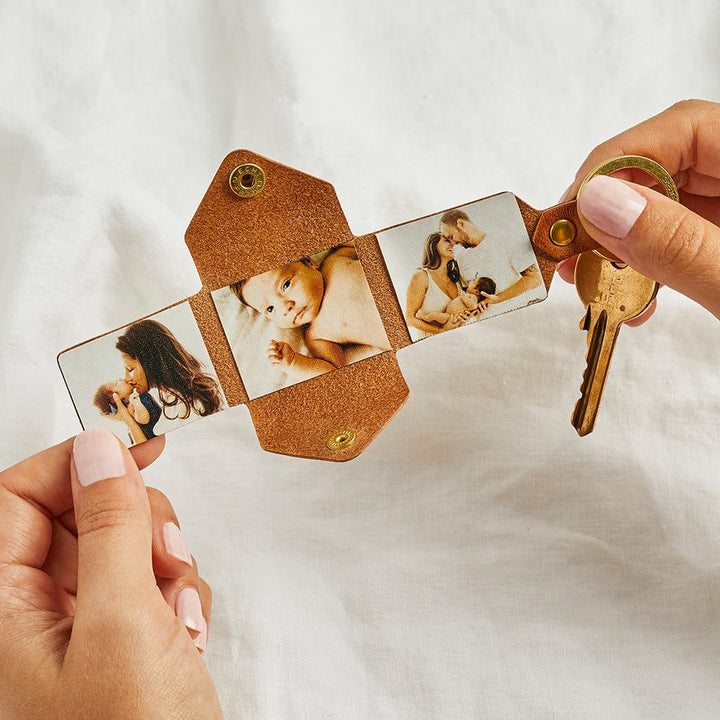 We were always being asked if we could fit more than one picture in our photo keyrings, so we developed the Multi-Photo Leather Envelope Keyring. Designed to mimic an envelope when closed, this leather keyring unfolds to reveal three photographs hidden inside.
What's great about this design is that the photos lie next to each other, so you open it up and see them all in one go. It's a great option if you want to include pictures of the whole family and is a very popular gift for grandparents, personalised with photos of each of the grandchildren. With personalisation on the outside and your choice of three leather colours, this little keyring is like a tiny family album to carry with you everyday.
---
Personalised Photo Calendar Wood And Acrylic Keyring
If you're after a non-leather option, our Wood and Acrylic Photo Keyring is the one for you. It's actually one of our first ever photo keyring designs from many years ago but continues to be a popular choice today.
These simple keyrings feature a solid walnut wood back which can be engraved with a personalised message to make a special customised gift. You can opt for plain engraved text or a personalised calendar design marked with a special date – a popular choice for new parents, printed with a baby photo and engraved with the day they became a mum or dad.
---
Personalised Leather Photo Frame Keyring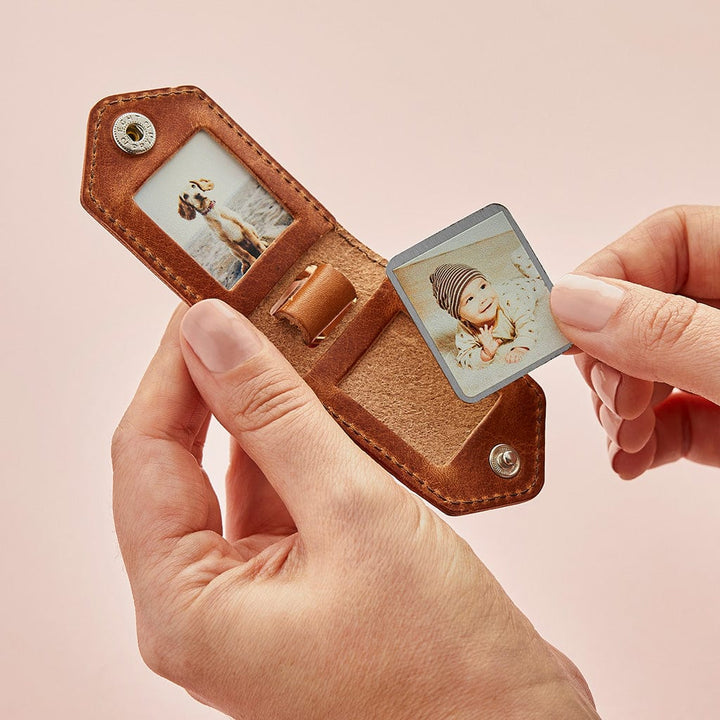 Ever since we started making personalised photo keyrings our most frequently asked question has been "can I change the photograph at home?" – the Leather Photo Frame Keyring is the answer.
We know that things change as life continues, families grow and new memories are formed every day so we wanted to give you the option to update your keepsake keyring with new photographs as the years go on. Designed in the same shape and style as our original leather photo keyrings, the difference here is that the photograph plates can be removed and replaced, just like printed pictures in a picture frame.
You can buy the keyring with or without the photo plates, giving you the option to include your printed photos from home or we can do the hard work for you. You can also order photo plates individually if you want to swap your photograph later down the line. This leather frame keyring is perfect for young families, giving you the space to update your photographs as the children grow.
---
Personalised Multi-Photo Leather Case Keyring
If you're after maximum photos, this four photo keyring is the best option for you. Rather than the metal plates we use in most of our photo keyring designs, this version is made (almost) entirely from leather which means it's slightly softer and more flexible, giving us space to hold a few extra photo pages inside.
You can include any four photographs you like, but our favourite way to personalise these keyrings is by choosing photos that link together. One way is to show four shots from the same day and location, so it acts almost like a flip-book as you turn over the pages, perfect for wedding photographs or family shoots. The other thing we love to see is a photo timeline, telling your family story through the years from page one through to four.
---
Whether you're looking for a personalised keyring to display your one favourite photo or a pocket-sized keepsake to carry a miniature album with you, we can help make something that's perfect for you. All personalised photo keyrings at Create Gift Love are handcrafted in our workshop in the New Forest, UK, from high quality materials that are made to last. Find your perfect keepsake today.